IN A WORLD WHERE THE LUXBALL....
Oh, forget it.
Anyway, BinaryCortex, Patro, and myself are proud to present *drumroll* LUXBALL5!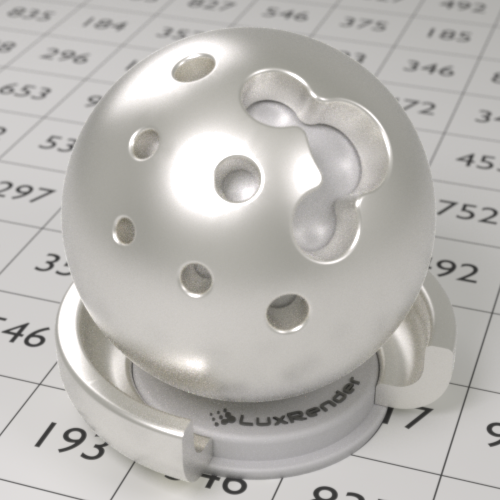 Luxball5 has been redone to better serve your material test needs. Patro has remodeled the shell of the ball using Rhino (I think), and after some back and forth between BinaryCortex and myself, we hammered out a finished product.
The new Luxball features a more precise design, the logo is now longer stretched out across the ball. This one also features a special bonus inside...BUBBLES! They are a seperate mesh object, so you can disable them easily if you don't want them. They have normals out and (at least in the Blender 2.5 version) come pre-configured with "world" as interior medium, and "luxball" as exterior. (Translation: IOR junk has been pre-done for you)
Lastly, I re-did the writing on the ball, it now features the LuxRender logo. The old text actually still exisits in the .blend file if you want it. The two lettering sets share the same material too, the old one just lives on layer 2 and is has render visiblity disabled. So if you want the old letterring, it's just a few clicks away.
Below you can find links to the scene for various 3D packages, plus some generic versions of the just the models if you want to make your own. (C4D folks? DAZ/Reality folks? XSI folks?)
Blender 2.5:
http://dtc-wsuv.org/jclarke/luxrender/luxball5.zip
Blender 2.49:
http://dl.dropbox.com/u/19902386/luxball5_249.blend
3DS Max: Please see
this thread
for the files
Standalone files:
OBJ (notes: contains several versions of the scene together, hide the meshes you don't want. Also, the file is Z-up, disable the "Rotate X 90 degrees" feature on your importer when bringing it into a Z-up package):
http://dl.dropbox.com/u/16788239/LuxBal ... %20obj.zip
FBX:
http://dl.dropbox.com/u/16788239/LuxBal ... %20FBX.zip
A separate pack of the bubbles:
http://dl.dropbox.com/u/16788239/LuxBal ... 20logo.zip
Here it is in glass2, if you'd all like to see the bubbles: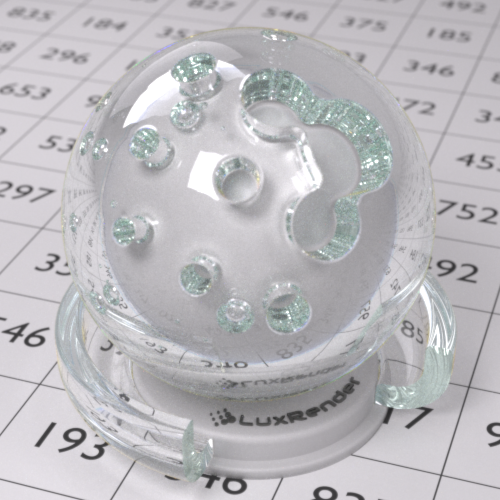 On a side note: I won't be posting the 2.5 version to the test scene repo until we have a finished version of luxblend25 to use it with. Changes tend to break scenes every few weeks.